VINTAGE
DARK GREEN DENIM
SIZE 7/8
LADIES WOMENS JUNIOR
ROUGHRIDER JEANS
BY CIRCLE T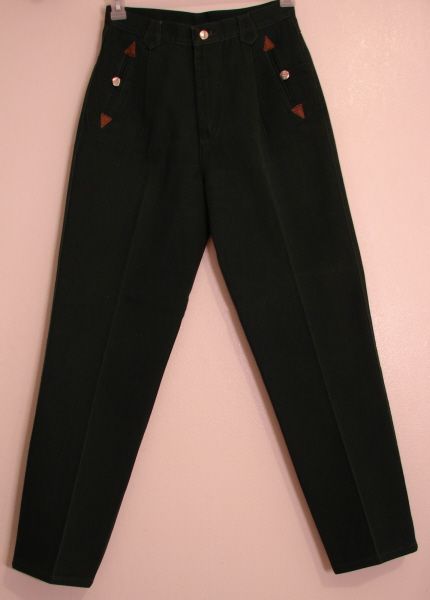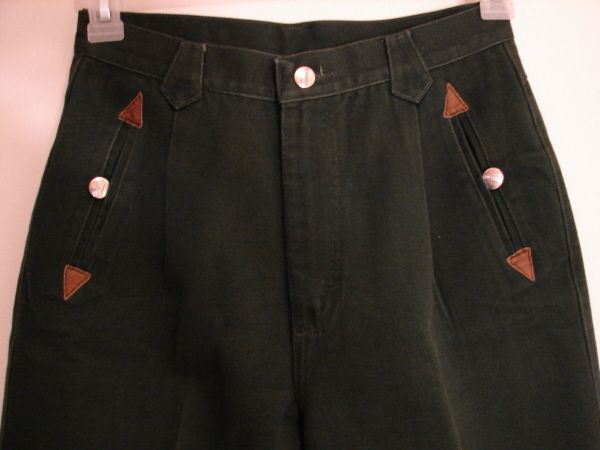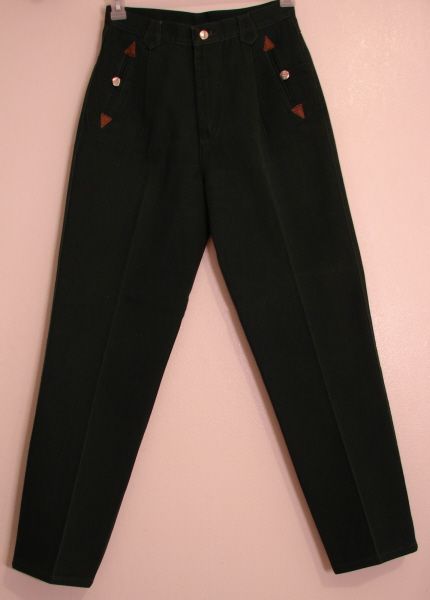 Vintage

One Pair

SIZE 7/8

DARK GREEN DENIM ROUGHRIDER JEANS

WESTERN PANTS

Closure is by metal button and zipper. Inspected and working properly.

No foul odors, stains or tears.

This item had been professionally cleaned, starched, and pressed prior to storing.

Additional functional metal button on each pocket. They fasten through a loop.

Decorative leather triangles at top and botton edge of pockets.

No professional cleaner's markings found.

Excellent Condition.

Proper Fit: To ensure a proper fit please use your best fitting jeans as your measuring template. Make sure they are freshly laundered (haven't been stretched out by wearing them after their last wash) and measure them as outlined below. Compare your measurements with the ones for these below.

--- Please Note: You may find this YouTube video helpful in finding your measurements: http://www.youtube.com/watch? v=IPsw40btQUw

Measurements:

Waist -- 27 1/2"
(Side to side across the back waistband with the natural dip, and double that number).




Inseam -- 30 1/2"
(Inner leg crotch seam to bottom of leg).




Outseam -- 41 1/2"
(Upper outside edge of waistband to bottom of leg [full top to bottom]).




Leg Opening -- 15"
(Side to side at bottom of leg, and double that number).




Front Rise -- 13"
(Crotch seam to top of front waistband).




Back Rise: -- 16 1/4"
(Crotch seam to top of back waistband).




Hips: -- 43 1/2"
(Hip to hip along the bottom of the zipper, and double that number).




100% Cotton
Made in U.S.A.
RN 60531
STYLE 2653 OR 2693 ?
CUT 185 OR 186 ?
Additional tag information:
CIRCLE T WESTERN WEAR
2632 FREEWOOD DR
DALLAS, TEXAS
75220

I hope you've found your perfect fit!

Shipping price is for USA only -- via:

USPS PRIORITY MAIL - Insurance INCLUDED with shipping price.

Please see seller's "Payments, Shipping & Policies" tab when making a purchase.
ALL SALES FINAL. NO RETURNS. NO REFUNDS.

Thank You.
Brand ROUGHRIDER
Mfg Part # Jeans
Size Other
Color Green
Age group Adult
Gender Female
Payment Methods
Shipping USPS, $6.80

Payment Policy
(1) I accept United States $ CASH $ sent at buyers own risk.

(2) USPS Postal Money Orders.

(3) Walmart MoneyGrams or Walmart-2-Walmart Money Transfers on high dollar items.

(4) PayPal Credit Card/E-Check pmt processing. You must be a PayPal VERIFIED user. Sorry no new and/or unverified PayPal user pmts accepted. E-Check pmts thru PayPal delay shipment by several days while clearing. Goods will be shipped to the address confirmed on your PayPal account.

. . . . . . . . . . . . . . . . . . . . . . . . .

INSURANCE: Is buyer's responsibility.

Items shipped USPS PRIORITY valued at $50 or less ARE INSURED at NO ADDITIONAL CHARGE by the USPS.

Items shipped USPS PRIORITY valued over $50, & items shipped other than USPS Priority with listed price of $20 or more have buyer's insurance costs added in with item's shipping charge.

Items shipped OTHER than USPS Priority with value of $19.99 or less are NOT insured. Contact me PRIOR to paying to request an adjusted invoice with insurance costs added if you care for insurance – otherwise, you will be having your item shipped UNINSURED.

If your INSURED item should become lost or damaged by the Post-Office you should contact them IMMEDIATELY or visit their website for claim instructions. Your claim will be with them.

All items ship "FOB Shipping Point" (BUYER pays shipping costs, takes responsibility for goods at shipping point, & files claim if any).

I AM NOT RESPONSIBLE FOR POSTAL LOSS OR DAMAGE.

. . . . . . . . . . . . . . . . . . . . . . . . .

KANSAS BUYERS -- KS sales tax applies. *See "Other Policies" below.
. . . . . . . . . . . . . . . . . . . . . . . . .

INTERNATIONAL BUYERS – Quoted shipping prices are for USA ONLY. **See "Other Policies" below.
. . . . . . . . . . . . . . . . . . . . . . . . .
Shipping Policy
Items usually ship within 2 Business Days of receiving CLEARED payment.
. . . . . . . . . . .

COMBINED SHIPPING: I am happy to combine whenever possible to help save on shipping costs. To qualify for combined shipping contact me with (a) name, (b) complete shipping address, & (c) purchase list so that I can compute your combined total & issue an invoice. You will make a SINGLE payment after invoice has been issued. Sorry, combined rates DO NOT apply if items are paid for separately. Online payments expected within 24 hours of combined invoice being issued, mailed payments to arrive here within 4 days.
. . . . . . . . . .

Items will NOT be marked "FRAGILE" unless BUYER requests AND pre-pays the NEW USPS "FRAGILE" fee: $10.35. Contact me PRIOR to paying for an adjusted invoice if you would like this additional USPS cost/service added.
. . . . . . . . . .


Return/Exchange Policy
If you have any questions -- please ask before purchasing.

ALL SALES ARE FINAL. NO RETURNS, EXCHANGES, OR REFUNDS.

Other Policies
Special notes for KANSAS & INTERNATIONAL Buyers:

*KANSAS BUYERS -- KS sales tax applies. A flat 9.2% will be added to your total allowing me to adjust purchase totals to accommodate multiple KS SALES TAX JURISDICTION RATES with a single rate checkout system. If you prefer your exact rate charged DO NOT purchase through the automated system, instead send your full name & address with your request & I will send you an invoice with the revised total. (You may lose the opportunity to purchase if another uses auto system while your request is in process).

**INTERNATIONAL BUYERS – You MUST be PayPal VERIFIED for PayPal or buy with United States CASH $ at your own risk. International shipping rates & policies differ. Import duties, taxes & other such charges are not included & are the BUYER'S (your) responsibility. Please check with your country's customs office to determine what these additional costs will be & to see if the item is allowed into your country prior to inquiring about purchasing. You are responsible for determining if the item offered is legal to come into your country. I will not be held responsible for shipping losses, damages or customs seizures. I do not falsify customs declarations or mark an item as a gift so customs fees can be avoided. You may inquire about purchasing an item from me by using the link provided for questions with your; (a) name, (b) whether you ARE a verified PayPal user, (c) your full PayPal Verified shipping address formatted in the exact manner used on packages or envelopes for shipping, & (d) what item/s interest you. I will check shipping options & possibly other factors to try to determine if it is feasible for me to ship the item to you in your country. All items are sent "FOB Shipping Point" or "FOB Origin" (buyer pays shipping costs, takes responsibility for the goods at shipping point, and files claim if any). I AM NOT RESPONSIBLE FOR POSTAL LOSS OR DAMAGE -- OR CUSTOMS SEIZURES.
Please Login or Register first before asking a question.