American Frontier Late Elementary Piano Solo Nancy Faber
Add to Cart
Description
Payments, Shipping & Policies
Contact seller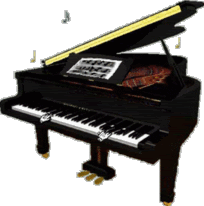 American Frontier
Piano Solo Sheet
Level 5


Commissioned by Clavier, this inventive and well-crafted composition celebrates the spirit of the Old West.
The piece develops a strong sense of rhythm, emphasizing energetic articulations.
This solo is appropriate for Late Intermediate pianists.
By Nancy Faber

Thank you for taking the time to visit.
Click the link below to tour my Blujay Store.
Template by Lesley's Auction Template Designs
UPC 674398200108
Brand FJH Music Hal Leonard
Mfg Part # A2011
Payment Methods
Shipping $1.28

Payment Policy
I accept PayPal and Money Orders only. PLEASE NOTE: NO PERSONAL CHECKS. Payments due and payable within 10 days of close of sale. INTERNATIONAL BUYERS please wait for your postage to be adjusted for your country. You must be PayPal acceptable. I only accept credit card payments through PayPal. NO EXCEPTIONS!

Shipping Policy
I will combine shipments for multiple purchases. Please do not pay for your items if you are purchasing multiple items. Please wait until the invoice is updated with the correct shipping fee. Paid items will be shipped within 48 hours of receipt of payment. All shipping costs for items are fixed and will be paid for by the buyer. INTERNATIONAL BUYERS please wait for shipping charges to be added to your invoice.
Return/Exchange Policy
Before purchasing any music, ask any questions you may have. Be very sure that you understand what you are purchasing. Returns will only be allowed if we have made an error. Errors must be reported within 30 days of shipping invoice.
Please Login or Register first before asking a question.