1. Marvel Comics SPIDERMAN FINAL CHAPTER PETER PARKER PART 4 OF 4 #98 2. Marvel Comics The Spectacular Spider-Man 30th Anniversary Special 3. The Amazing Spider-Man 45 record-The Mad Hatter of Manhattan(cover intact but separating at the seams)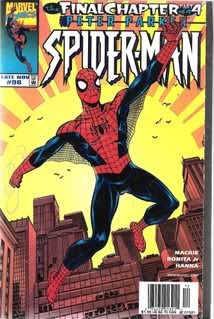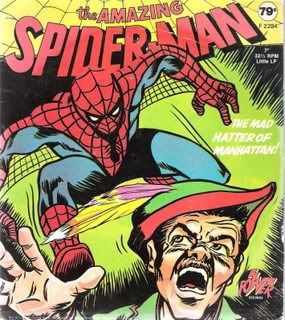 I describe each item with the basics but; They say a picture is worth a thousand words so I take lots of pictures so you can see what you are getting. I even take pictures of the faults in the piece. This is my way of insuring the item is as described. All items are pre-owned unless otherwise noted. If you need more information please e-mail me with any questions. Be sure to check out my other items for more great specials. Make me an offer I can't refuse. All reasonable offers accepted. I recommend insurance but leave that to the buyer. I AM NOT AN EXPERT AT ANYTHING. DO NOT TAKE MY ESTIMATION OF ERA, DATES OR ANYTHING AS GOSPEL...PLEASE CHECK WITH SOMEONE MORE KNOWLEDGEABLE BEFORE BIDDING IF YOU ARE IN DOUBT, AND IT'S IMPORTANT TO YOU. AS STATED BEFORE...I AM NOT AN EXPERT AT ANYTHING. I DESCRIBED TO THE BEST OF MY KNOWLEDGE AND HOPE THAT I HAVE GIVEN YOU ENOUGH INFO. PLEASE KEEP IN MIND THAT I DO NOT KNOW WHERE ITEMS HAVE LIVED PRIOR TO FINDING ME THEIR PRIOR HOMES MAY HAVE A MUSTY OR SMOKEY. THIS HOLDS TRUE FOR ALL NEW ITEMS AS WELL. SOME OF THESE WERE BOUGHT IN LOTS, ESTATE SALES OR AUCTIONS. SO AS YOU CAN SEE I HAVE NO WAY OF KNOWING WHERE THEY CAME FROM.
Payment Methods
Shipping $3.00

Please Login or Register first before asking a question.