*~Aloha and Welcome to Our Spring Fling Hawaiian Shirt Special Sale!~* :)
We will Combine Shipping on Multiple purchases at these incredible Sale prices, Simply place your order and we'll Have Google Checkout send you an invoice!
Have Fun and Mahalo! :D
*~Everything in this shop is 25% to 75% OFF from our other shops, so have FUN!~* :D
Please see our 100% positive feedback here:

*~Many more pictures and shop policy below!~* :)
HAWAIIAN SHIRT Vintage 60's ALOHA Tiki -= HORIZONTAL BUTTONHOLES =- Tribal Tapa HAWAII Print Men's M!
Aloha shirts look killer on men or women, worn open with a tank top underneath! That easy, breezy casual, yet classy look! :)
A Classic Hawaiian 1960's Design, Rich Hand Dyed 100% Cotton in a Linen Weave and Created by the GARMENT FACTORY TO YOU, Made in HONOLULU HAWAII, Tribal Tiki Floral Print in an Exquisite Design of RICHLY COLORED Design, Several Different Shades of BLUE from AQUAMARINE to ROYAL and BRIGHT KEY LIME with Touchs of BRIGHT WHITE and Trims of BLACK, Collared Neckline, Wide Square Cut Sleeves, the slightly shorter Body coming in slightly at the waist true to the 50's and 60's era, Double Layered Back Shoulder Panel, Vintage INTRICATE Stamped Metal Button Closures with HORIZONTAL BUTTONHOLES and a Pocket at the Left Chest! :)
Size MEDIUM (m, md, med), but here are some Measurements for your Perfect Fit:
Shirt: Shoulder seam to Shoulder seam straight across the top front is 17 inches, Underarm to Underarm/Chest 48 inches around, Waist 44 inches around and Overall Length is 29 inches from the top center back neckline to the hemline!
**Condition** In SUPERB, NEVER WORN condition with no rips, tears, fading or any visible flaws at all to report!
Check this discounted price HERE!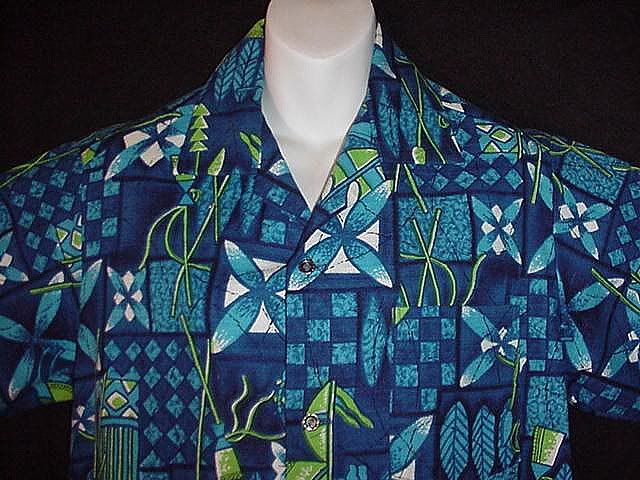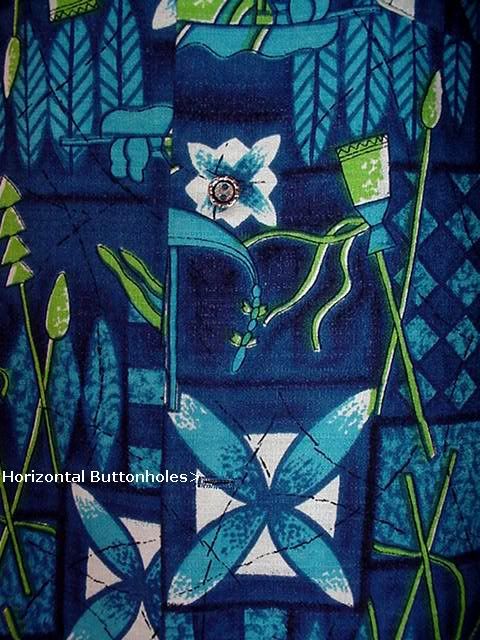 Packed away for many years, so you may wish to give it a quick laundering!
Viva Las Vegas! :)
Stock #172