*~Everything in this shop is 25% to 75% OFF from our other shops, so have FUN!~* :D
Please see our 100% positive feedback here:

*~Many more pictures and shop policy below!~* :)
HAWAIIAN Aloha SHIRT Designer -= OFFICIAL ALL STAR CAFE =- Honolulu HAWAII Men's Size XL!
A Classic Hawaiian Camp Shirt Design by OFFICIAL ALL STAR CAFE in Honolulu Hawaii! Traditional Vintage styling, Top Stitched Collared Neckline, Wide Square Cut Sleeves and Body, HORIZONTAL BUTTONHOLES, Deep NAVY FLORAL Block Print with White Outlines, on a BEIGE TAN Background and Genuine Wood Buttons, Composed of 100% Cotton with a PERFECTLY MATCHED Pocket at the Left Chest! :)
This one has an "ALL STAR CAFE HONOLULU" appliqued patch with an Embroidered Star above it at the Left Chest, just above the pocket!
Tagged a Size EXTRA LARGE (xl, x, xlg, xlrg, xlge), but here are some Measurements for your Perfect Fit:
Shirt: Shoulder seam to Shoulder seam straight across the top front is 19 inches, Underarm to Underarm/Chest 48 inches around, Waist 48 inches around and Overall Length is 32 inches from the top center back neckline to the hemline!
**Condition** In EXCELLENT, quite possibly NEVER WORN or laundered condition with the only thing I can find to tell you about is what looks like a very faint and tiny pen mark, it's very narrow and about a quarter inch long, it blends with the floral pattern well and other than that... no rips, tears, fading or any other visible flaws at all to report!
Check this discounted price HERE!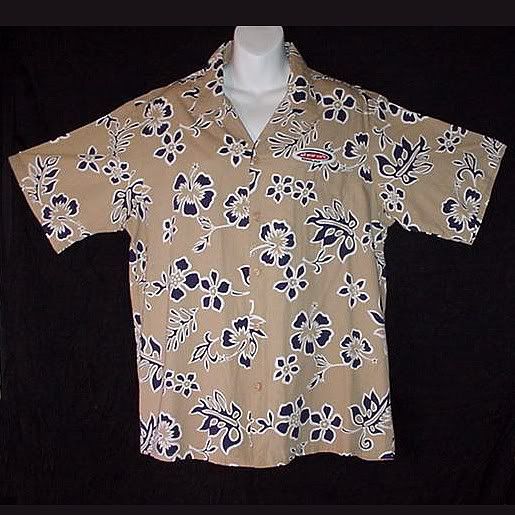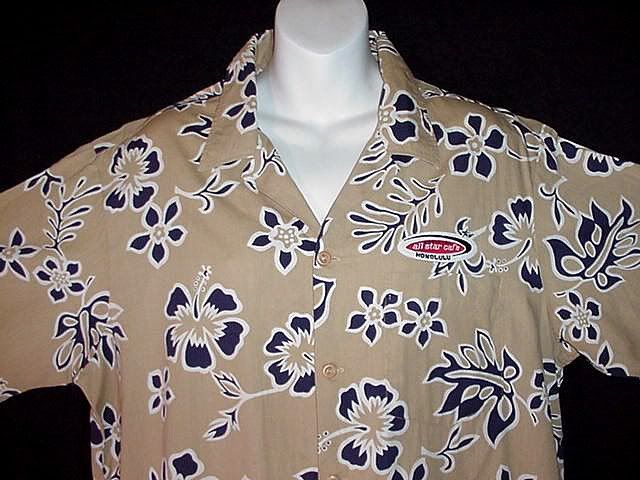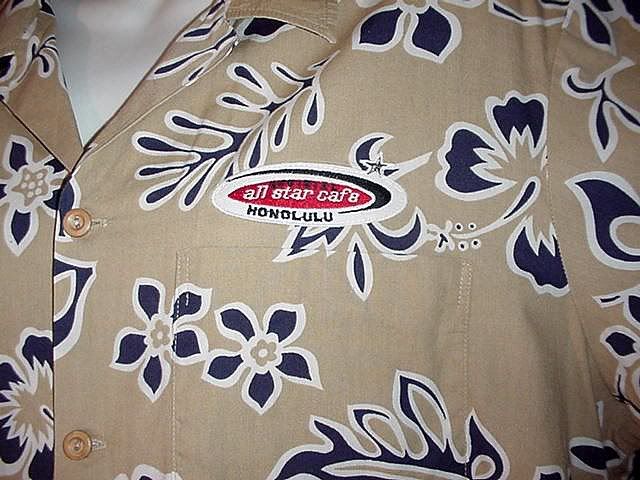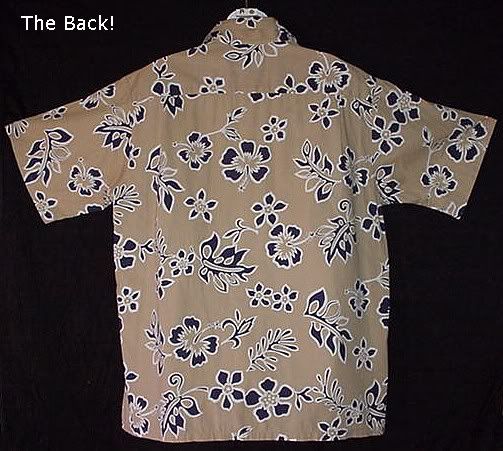 Packed away for several years, so you may wish to launder prior to wearing!
Stock #168