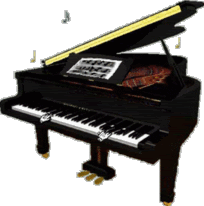 Imagine That!

These tiny pieces are each built on a single musical idea -- sometimes melodic, sometimes rhythmic, sometimes harmonic.
Each piece is accompanied by a poem that helps to set the mood for the piece.
For the first or second year student who will have quick success and fun with these 14 short pieces, as their imagination is sparked by the highly creative music and poems.
By John Robert Poe

Please see table of contents for selections.

Table of Contents
All Along The Broken Sidewalk
The Dandelion Is A Pesky Weed
Did You Every Wonder What The Katy-did Did?
I know Why No One Has Ever Found The Pot Of Gold
I Think Next Thursday I'll Telephone Santa Claus
I Wonder Why It Is That Pigs...
I Would Not Like To Be A Snake!!
If I Could Find A Polly-wog
Ivy Trailing 'Long The Wall
Look At The Tulips That Grow In My Garden
My Friend Rupert Says When He Grows Up
Polly Put The Kettle On
Tiny Light Up In The Sky
When I WAs Only Nearly Three
Thank you for taking the time to visit.
Click the link below to tour my Blujay Store.
Template by Lesley's Auction Template Designs
Brand Neil Kjos Music Company
Mfg Part # WP146
Payment Methods
Shipping $1.48

Payment Policy
I accept PayPal and Money Orders only. PLEASE NOTE: NO PERSONAL CHECKS. Payments due and payable within 10 days of close of sale. INTERNATIONAL BUYERS please wait for your postage to be adjusted for your country. You must be PayPal acceptable. I only accept credit card payments through PayPal. NO EXCEPTIONS!

Shipping Policy
I will combine shipments for multiple purchases. Please do not pay for your items if you are purchasing multiple items. Please wait until the invoice is updated with the correct shipping fee. Paid items will be shipped within 48 hours of receipt of payment. All shipping costs for items are fixed and will be paid for by the buyer. INTERNATIONAL BUYERS please wait for shipping charges to be added to your invoice.
Return/Exchange Policy
Before purchasing any music, ask any questions you may have. Be very sure that you understand what you are purchasing. Returns will only be allowed if we have made an error. Errors must be reported within 30 days of shipping invoice.
Please Login or Register first before asking a question.