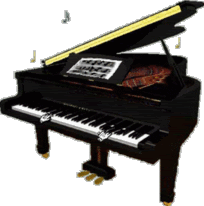 Bits and Pieces

Super "big sounding" pieces for 1st year students.
Eleven imaginative solos each one with a different flavor and pedagogical feature — with no chords (some 5ths, 6ths, 2nds), some pedal, no key signatures (lots of accidentals).
Allow students to enjoy playing high, low, and cross-overs while improving melodic flow.
For beginners from approximately 4 – 6 months of study.
Larger notes and staff made especially for this age!
By John Robert Poe

Please see table of contents for selections.

Table of Contents
Blooming Shamrock
Castle On The Moor
Chief Running Bear
Dragon Kite
Elegant Ghost, The
Friends Forever
Haunted Staircase, A
Leprechauns' Lawn Party
Little White Donkey
Moody Monday, A
Winter Excursion
Thank you for taking the time to visit.
Click the link below to tour my Blujay Store.
Template by Lesley's Auction Template Designs
Brand Neil Kjos Music Company
Mfg Part # WP336
Payment Methods
Shipping $1.68

Payment Policy
I accept PayPal and Money Orders only. PLEASE NOTE: NO PERSONAL CHECKS. Payments due and payable within 10 days of close of sale. INTERNATIONAL BUYERS please wait for your postage to be adjusted for your country. You must be PayPal acceptable. I only accept credit card payments through PayPal. NO EXCEPTIONS!

Shipping Policy
I will combine shipments for multiple purchases. Please do not pay for your items if you are purchasing multiple items. Please wait until the invoice is updated with the correct shipping fee. Paid items will be shipped within 48 hours of receipt of payment. All shipping costs for items are fixed and will be paid for by the buyer. INTERNATIONAL BUYERS please wait for shipping charges to be added to your invoice.
Return/Exchange Policy
Before purchasing any music, ask any questions you may have. Be very sure that you understand what you are purchasing. Returns will only be allowed if we have made an error. Errors must be reported within 30 days of shipping invoice.
Please Login or Register first before asking a question.