Green Glass Lighted Potpourri Vase
Store information

$7.49 USD
Shipping $11.25
Item id# 1984234
Condition used
quantity 1 available
Add to Cart
Description
Payments, Shipping & Policies
Contact seller
ronsmainstreetstore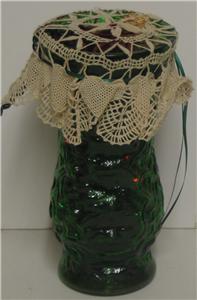 Green Glass
Lighted Potpourri
Vase

For sale is a handcrafted clear glass vase filled with potpourri.

It measures 8.75 in. tall by 16.25 in. around the middle by 4.125 in. across the top and has molded into a green glass knobby and dented patern.

It is lighted with a string of small lights inside and has a white doillie on top held in place with a green ribbon and bow.

The vase and the lights are each in excellent condition. Photos are of the actual vase.

|| Item's Weight: 1.75 lbs. || Shipping Weight: 2 lbs. || USPS Priority Mail: $11.95 ||
|| Handling: $2.00 ||


Please email me within 3 days of sale's end.

Payment via Paypal. an USPS Money Order, a bank money order or a cashier's check.
Will consider a business or personal check; but, may hold until cleared.

Delivery vis USPS Priority Mail or Media Mail for books and music.
Charges are figured for the actual weight of the item plus the weight of packing from USPS the website.
All final shipping charges already include my required
USPS Insurance and Delivery Confirmation Number
plus my $2.00 Seller's Fee.

You may request a return after 7 days only for my mistakes
if the item received is not as was described in the listing,
if I ship the wrong item,
if the item arrives broken,
if it is not packed adequately,
or if I take longer than 7 days to ship after payment.

If you have any questions. please email me.

A full set of my current terms are on my About Me page .

Ron
Payment Methods
Shipping $11.25

Please Login or Register first before asking a question.