Reader's Digest "One Dish Meals- The Easy Way" Cookbook
Store information

$3.95 USD
Shipping $5.65
Item id# 1949311
Condition used
quantity 1 available
Add to Cart
Description
Payments, Shipping & Policies
Contact seller
ronsmainstreetstore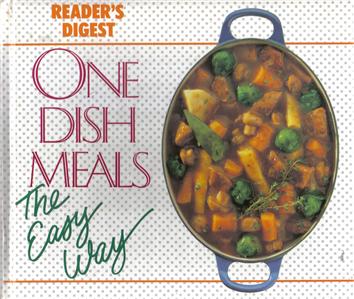 Reader's Digest "One Dish Meals
- The Easy Way
" Cookbook


Over 400 Delicious Meals;
Main-Dish Meals
Meat
Poultry
Fish
Meatless Meals
Pasta
Main-Dish Salads
Brunches and Lunches
Extra Quick 'n' Easy Meals
Microwave Meals
Outdoor Meals
Magic with Leftovers

Plus:
Appetizers and Desserts
Make Ahead Basics

Special Features:
Nutrition analysis of every recipe
Preparation and cooking times Over 150 full-color photographs
Hundreds of practical hints, tips and suggestions


Copyright: (C) 1991, Reader's Digest
Cover Condition: Very Good
Binding Condition:
Very Good, except for a partial separation of pages up to page 82
Pages Condition:
Very Good, original included 'thank you' slip included
Measurements: 8.7 in. H, 10.2 in. W, 1 in. Th., 352 pages, 2.42 lbs.

|| Item's Weight: 2.42 lbs. || Shipping Weight: 4 lbs. || USPS Media Mail: $5.65
|| USPS PriorityMail: $11.25 ||
|| Handling: $2.00 ||


Please email me within 3 days of sale's end.

Payment via Paypal. an USPS Money Order, a bank money order or a cashier's check.
Will consider a business or personal check; but, may hold until cleared.

Delivery vis USPS Priority Mail or Media Mail for books and music.
Charges are figured for the actual weight of the item plus the weight of packing from USPS the website.
All final shipping charges already include my required
USPS Insurance and Delivery Confirmation Number
plus my $2.00 Seller's Fee.

You may request a return after 7 days only for my mistakes
if the item received is not as was described in the listing,
if I ship the wrong item,
if the item arrives broken,
if it is not packed adequately,
or if I take longer than 7 days to ship after payment.

If you have any questions. please email me.

A full set of my current terms are on my About Me page .

Ron
Payment Methods
Shipping $5.65

Please Login or Register first before asking a question.