A "Christmas in Cartoontown"
Store information

$3.95 USD
Shipping $4.53
Item id# 1930215
Condition used
quantity 1 available
Add to Cart
Description
Payments, Shipping & Policies
Contact seller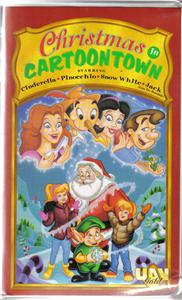 A "Christmas in Cartoontown"

Starring Cinderella Pinocchio Snow White and Jack(From the Beanstalk)

A story of Irv the Elf and how he escaped the snow globe with help from Heidi, Alex, and their fairytale heroes.

Includes Original Songs:

An Elf's Work is Never Done
Wicked Little Me
Good Things Come in Small Packages
What Makes Christmas Merry

Tape is used but in excellent condition. Photos are of the actual tape's case.


Format: Color VHS
Copyright: (C) 1996, UAV Corp.
Filmed: Made in Usa
Length: 60 Mins.
ISBN: 1-57642-132-5

Eba_ChVHS0002

|| Item's Weight: 0.67 lbs. || Shipping Weight: 1 lbs. ||
|| USPS Media Mail: $4.87 || USPS Priority Mail: $6.90 ||
|| Handling: $2.00 ||
Payment Methods
Shipping $4.53

Please Login or Register first before asking a question.