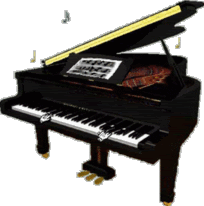 Musical Pictures
Volume Two

This collection consists of originals for intermediate pianists.
By Emily Leitner Ervin, C. Edward Hupton, Irina Kirilenko, William C. C. Moy, Joyce Schatz Pease, Oliver Nelson Russell and Samuel Wellman
Edited by Dale Tucker
Please see table of contents for selections.

Table of Contents

Emily Leitner Ervin
C. Edward Hupton
Las Pampas
Rock Island Rocket
Wyoming
Irina Kirilenko
A Hammock Dream
Minstrels
Three Russian Folk Songs (I. Moderate, II. Allegro, III. Adagio
Valley Of Elves
William C. C. Moy
Joyce Schatz Pease
Jazz-Min
Polka Dot Pranksters
Oliver Nelson Russell
The Musical Cake Plate
On The High Wire
The Restless Elephant
Samuel Wellman
Ant Hill
Ballerina
Spinning Song
The Train
Thank you for taking the time to visit.
Click the link below to tour my Blujay Store.
Template by Lesley's Auction Template Designs
Brand CPP Belwin Inc
Mfg Part # EL3509
Payment Methods
Shipping $1.88

Payment Policy
I accept PayPal and Money Orders only. PLEASE NOTE: NO PERSONAL CHECKS. Payments due and payable within 10 days of close of sale. INTERNATIONAL BUYERS please wait for your postage to be adjusted for your country. You must be PayPal acceptable. I only accept credit card payments through PayPal. NO EXCEPTIONS!

Shipping Policy
I will combine shipments for multiple purchases. Please do not pay for your items if you are purchasing multiple items. Please wait until the invoice is updated with the correct shipping fee. Paid items will be shipped within 48 hours of receipt of payment. All shipping costs for items are fixed and will be paid for by the buyer. INTERNATIONAL BUYERS please wait for shipping charges to be added to your invoice.
Return/Exchange Policy
Before purchasing any music, ask any questions you may have. Be very sure that you understand what you are purchasing. Returns will only be allowed if we have made an error. Errors must be reported within 30 days of shipping invoice.
Please Login or Register first before asking a question.