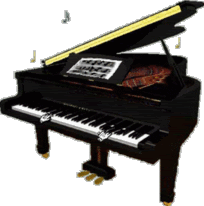 Seven Preludes
In Seven Keys

A Prelude is a short "character" piece which is generally designed to create one main mood, and which is usually made of one primary musical gesture such as broken chords, five-finger patterns, scale passages.
Many famous composers, including J. S. Bach, Chopin, Debussy, Kabalevsky, and Shostakovich, have composed sets of preludes.
In this collection there is one prelude, either major or minor, for each white key.
Each prelude reveals a special emotion; each allows sensitive, personal interpretation.
By Elvina Truman Pearce

Please see table of contents for selections.

Table of Contents
Prelude No. 1 in C Major
Prelude No. 2 in D Minor
Prelude No. 3 in E Major
Prelude No. 4 in F Major
Prelude No. 5 in G Major
Prelude No. 6 in A Minor
Prelude No. 7 in B Minor
Thank you for taking the time to visit.
Click the link below to tour my Blujay Store.
Template by Lesley's Auction Template Designs
UPC 029156636987
Brand Alfred Music Publishing
Mfg Part # EL3283
Payment Methods
Shipping $1.48

Payment Policy
I accept PayPal and Money Orders only. PLEASE NOTE: NO PERSONAL CHECKS. Payments due and payable within 10 days of close of sale. INTERNATIONAL BUYERS please wait for your postage to be adjusted for your country. You must be PayPal acceptable. I only accept credit card payments through PayPal. NO EXCEPTIONS!

Shipping Policy
I will combine shipments for multiple purchases. Please do not pay for your items if you are purchasing multiple items. Please wait until the invoice is updated with the correct shipping fee. Paid items will be shipped within 48 hours of receipt of payment. All shipping costs for items are fixed and will be paid for by the buyer. INTERNATIONAL BUYERS please wait for shipping charges to be added to your invoice.
Return/Exchange Policy
Before purchasing any music, ask any questions you may have. Be very sure that you understand what you are purchasing. Returns will only be allowed if we have made an error. Errors must be reported within 30 days of shipping invoice.
Please Login or Register first before asking a question.