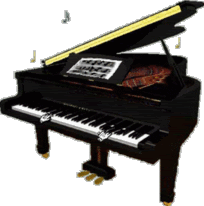 Nursery Rhyme Time
Level 1-2

A collection of 31 of the most popular nursery rhymes.
They are arranged to reflect the sense, sounds and moods of the words.
Really easy solos and duets.
Appropriate for levels 1 and 2.
Arranged by Fanny Waterman
Please see table of contents for selections.

Table of Contents


Pussy-cat, Pussy-cat
This Old Man
I Had A Little Nut Tree
Ring-a-ring O' Roses
Jack And Jill
Twinkle, Twinkle, Little Star
Three Blind Mice
Pop Goes The Weasel
Baa, Baa, Black Sheep
Girls And Boys Come Out To Play
Little Bo-Peep
Pat-a-cake
Hickory, Dickory, Dock
Little Jack Horner
Little Boy Blue
Lavender's Blue
Sing A Song Of Sixpence
Hey Diddle Diddle
Polly Put The Kettle On
Here We Go Round The Mulberry Bush
Oh Where, Oh Where Has My Little Dog Gone?
Humpty Dumpty
I Love Little Pussy
Rock-a-bye Baby
Cock-a-doodle-doo
Oranges And Lemons
Yankee Doodle
Oh Dear! What Can The Matter Be
Hot Cross Buns
Ding Dong Bell
The Grand Old Duke Of York
Thank you for taking the time to visit.
Click the link below to tour my Blujay Store.
Template by Lesley's Auction Template Designs
UPC 9780571509867
Brand Faber Music
Mfg Part # 12-057150986X
Payment Methods
Shipping $1.88

Payment Policy
I accept PayPal and Money Orders only. PLEASE NOTE: NO PERSONAL CHECKS. Payments due and payable within 10 days of close of sale. INTERNATIONAL BUYERS please wait for your postage to be adjusted for your country. You must be PayPal acceptable. I only accept credit card payments through PayPal. NO EXCEPTIONS!

Shipping Policy
I will combine shipments for multiple purchases. Please do not pay for your items if you are purchasing multiple items. Please wait until the invoice is updated with the correct shipping fee. Paid items will be shipped within 48 hours of receipt of payment. All shipping costs for items are fixed and will be paid for by the buyer. INTERNATIONAL BUYERS please wait for shipping charges to be added to your invoice.
Return/Exchange Policy
Before purchasing any music, ask any questions you may have. Be very sure that you understand what you are purchasing. Returns will only be allowed if we have made an error. Errors must be reported within 30 days of shipping invoice.
Please Login or Register first before asking a question.