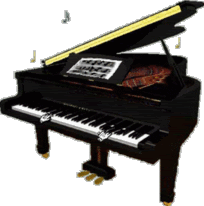 Country Sketches
Short Piano Selections For Early Interpretive Fun

For the student who is ready to expand their knowledge of the keyboard and interpretive skills.
Phrasing, melodic and harmonic intervals, pentatonic patterns, crossing of hands, legato and staccato touches, dynamic shading, fingering and the use of the pedal are just some of the skills encountered.
By B. J. Rosco
Please see table of contents for selections.

Table of Contents
Fillies Frolic
Wispy Willows
Tumbleweeds
Mountain Medley
Peacocks Strutting
Loon's On The Lake
The Morning Glory
"Rex" By The Pond
Friskie Puppies
Village Dance
Tumbling Kitties
Rainbows In The Foothills
A Visit To The Fair
Prairie Dog Lookout
Stormy Sky At Sunset

Woodland Creatures
Oriental Gardens
Whirlwinds On The Plains
Cottontail Picnic
Wind In The Leaves
Echoes In The Night
Honey Bee's March
Springtime Medley
A Bubbly Brook
Sunrise
Mountain Trails
Country Dance
Hayride
Wild Flowers
Quail Run
Thank you for taking the time to visit.
Click the link below to tour my Blujay Store.
Template by Lesley's Auction Template Designs
Brand CPP Belwin Inc
Mfg Part # EL3574
Payment Methods
Shipping $1.88

Payment Policy
I accept PayPal and Money Orders only. PLEASE NOTE: NO PERSONAL CHECKS. Payments due and payable within 10 days of close of sale. INTERNATIONAL BUYERS please wait for your postage to be adjusted for your country. You must be PayPal acceptable. I only accept credit card payments through PayPal. NO EXCEPTIONS!

Shipping Policy
I will combine shipments for multiple purchases. Please do not pay for your items if you are purchasing multiple items. Please wait until the invoice is updated with the correct shipping fee. Paid items will be shipped within 48 hours of receipt of payment. All shipping costs for items are fixed and will be paid for by the buyer. INTERNATIONAL BUYERS please wait for shipping charges to be added to your invoice.
Return/Exchange Policy
Before purchasing any music, ask any questions you may have. Be very sure that you understand what you are purchasing. Returns will only be allowed if we have made an error. Errors must be reported within 30 days of shipping invoice.
Please Login or Register first before asking a question.