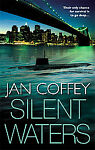 Book is in good condition; purchased new, read once. Good story!! Additional Information about Silent WatersPortions of this page Copyright 1995 - 2006 Muze Inc. All rights reserved.Size Length: 393 pages Height: 6.5 in. Width: 4.3 in. Thickness: 1.0 in. Weight: 6.4 oz. Publisher's Note When their submarine is hijacked, ship superintendent Amy Russell and Commander Darius McCann, with the lives of millions in their hands, work together to take down the enemy, while, back in New York City, two investigators race against time to stop the impending attack. Original.
00681
Payment Methods
Shipping $3.95

Payment Policy
I also accept personal checks (must clear), bank checks, or money orders as payment.
Please Login or Register first before asking a question.