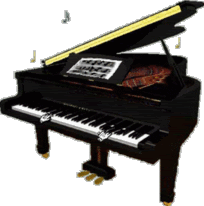 Summy Piano Solo Package
No. 201 - Late Elementary

A broad selection of pieces that invite the student to explore a variety of styles, moods and techniques.
The pieces are not limited to one grade level.
Most are appropriate for second year students.
Performance notes by Sister Rita Simo
Please see table of contents for selections.

Table of Contents
Foggy Night at the Harbor (Hansi Alt)
Hoedown (Ernest Waxman)
Hurdy-Gurdy (Ivan Vovk)
It's Raining (Michael Brodsky)
Bouncing the Ball (Buenta Carter)
Scotch Plaid (Olive Nelson Russell)
Try and Catch Me (Lillian Robbins)
Aeolian Harp (William L. Gillock)
March of the Circus Clowns (Frederick Koch)
Jazz a Gogo (Melvin Stecher, Norman Horowitz and Claire Gordon)
Fifteen Men on a Pirate Boat (Edna Mae Burnam)
The Harpist (Bernice Benson Bentley)
Ole! (Lynn Freeman Olson)
Thank you for taking the time to visit.
Click the link below to tour my Blujay Store.
Template by Lesley's Auction Template Designs
UPC 029156659870
ISBN 9780874876536
Brand Alfred Music Publishing
Mfg Part # 0653
Payment Methods
Shipping $1.68

Payment Policy
I accept PayPal and Money Orders only. PLEASE NOTE: NO PERSONAL CHECKS. Payments due and payable within 10 days of close of sale. INTERNATIONAL BUYERS please wait for your postage to be adjusted for your country. You must be PayPal acceptable. I only accept credit card payments through PayPal. NO EXCEPTIONS!

Shipping Policy
I will combine shipments for multiple purchases. Please do not pay for your items if you are purchasing multiple items. Please wait until the invoice is updated with the correct shipping fee. Paid items will be shipped within 48 hours of receipt of payment. All shipping costs for items are fixed and will be paid for by the buyer. INTERNATIONAL BUYERS please wait for shipping charges to be added to your invoice.
Return/Exchange Policy
Before purchasing any music, ask any questions you may have. Be very sure that you understand what you are purchasing. Returns will only be allowed if we have made an error. Errors must be reported within 30 days of shipping invoice.
Please Login or Register first before asking a question.