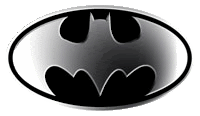 This item is the book TALES OF THE DARK KNIGHT: BATMAN'S FIRST FIFTY YEARS: 1939-1989 by MARK COTTA VAZ. It FEATURES 48 CLASSIC COVERS IN FULL COLOR! Published in 1989 by Ballantine, this is a FIRST EDITION. "...In Tales of the Dark Knight: Batman's First Fifty Years, author Mark Cotta Vaz takes us on a journey that traces the crusader's footsteps through the decades, offering a fascinating look at Batman, the nefarious villains who oppose him, and even the world around him..." "... Fully illustrated with the best of the comics artwork culled from the first five decades, Tales of the Dark Knight is the definitive story of The Batman--and a a volume to treasure while waiting to see what the next fifty years has in store for Gotham City's Dark Knight."
I've inspected this book closely and have found the following: there are a few pit marks on front and back cover, there is slight curl of the lower right corner of the front cover, and very light scratching on the front cover. In spite of that, I would consider this book to be in VF/NM condition and would offer it as a welcome addition to any Batman collection! It comes from a non-smoking environment and has been carefully stored in an archival box. It will be carefully bagged and protected with cardboard for shipping.
Buyer pays shipping/handling charges of $1.75 for USA delivery. PLEASE NOTE: Additional shipping charges may be applied on International addresses. International bidders are responsible for paying any and all taxes, VAT, duties, fees, charged by their country for the import of merchandise.
Drop into my store and check out my other items!
I will be happy to combine shipping on multiple items.
I package carefully and ship quickly!
Methods of payment accepted are: Money Order, Cashier's Check, or VISA, MASTERCARD, AMERICAN EXPRESS or DISCOVER through PayPal! Prompt payment is appreciated!
PAYPAL IS PREFERRED!

THANKS FOR LOOKING!